Vertical packaging machines
Inclined packaging machines
Weighers
Dosers
Auger dosers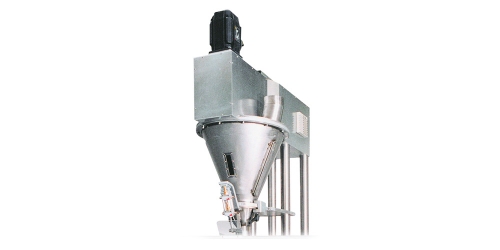 The auger doser is an ideal dosing system for any powder product for dosages in volume.
The direct mounting on the vertical packaging machines makes the dosers extremely configurable, with automatic adjustment of the dose.
Made in AISI 304 stainless steel
Simple and at the same time precise, it allows having the volume of product required always constant.
Cleaning facilitated through the front door.
Applications include: cocoa, milk, white and yellow flour.
TECHNICAL DATA:
Dosing auger and doser made of AISI 304 stainless steel, opened in half.
Measuring auger in AISI 304 stainless steel with diameters, profile sections and pitches that are different depending on the product.
Quick release auger, for quick sanitation.
Direct brushless servomotor to start up the auger.
Independent gearmotor for product agitator.
The dosers can be combined with auger conveyor belts.
Up to ….. doses per minute.