Vertical packaging machines
Inclined packaging machines
Weighers
Dosers
5-cup volumetric dosers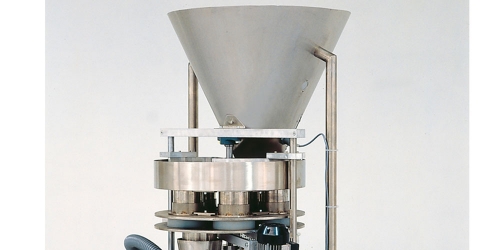 The 5-cup volumetric doser is suitable for volume dosage.
The dosage in volume is an economic solution for granular products.
The direct mounting on the vertical packaging machines makes the dosers extremely configurable, with manual adjustment of the volume by a handwheel.
Made in AISI 304 stainless steel
The device is equipped with cups in circular motion by a gearmotor and creates the loading and unloading with its continuous rotary movement.
Simple and at the same time precise, it allows to have the volume of product required always constant.
Cleaning is easier.
Applications include: rice, corn, all kinds of beans, salt, sugar, snacks, dried fruits, coffee beans.
TECHNICAL DATA:
Dosing auger and doser made of AISI 304 stainless steel.
Version with gearmotor, for adjusting and storing the volume on the recipes via a touch-screen operator panel of the packaging machine and interfaced with feedback signal to control weight.
Cups made in plastic or in AISI 304 stainless steel.
The dosers can be combined with auger conveyor belts.
Up to 60 doses per minute.