Vertical packaging machines
Inclined packaging machines
Weighers
Dosers
Linear weighers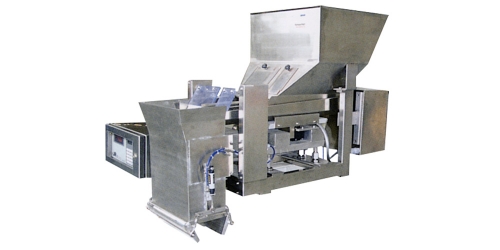 The linear electronic weighers include a wide range of models and configurations for weighing any kind of food and non-food product.
Frame made exclusively of AISI 304 stainless steel. All parts in contact with the product are easily and quickly removable for a complete cleaning and sanitizing. Digital communication protocol.
Applications include: coffee beans and ground coffee, granulated sugar, flour, pasta, snacks, pastries, biscuits, cereals, fresh and dried pasta, sweets, brittle biscuits, dried fruit, frozen products in general, pet food, etc.
TECHNICAL DATA:
From 1 to 4 weighing baskets.
Configuration with only a weighing basket for powders or extremely delicate products.
Weight range from 100 to 5000 grams.
Opening of the baskets by cylinders.
Baskets with single, single self-cleaning and douple openings.
Baskets with volume from 1.5 l. to 11.5 1.
Weighting baskets powered with vibrating channels and vibrating base that is separated for the roughing and finishing as well as accurate weight.
Weighting baskets powered with conveyor belts controlled by an inverter for products that move with difficulty or that are very delicate.
Use of various types of textured metal sheets according to the product to be weighed.
Treatment of non-stick surface coating.