Vertical packaging machines
Inclined packaging machines
Weighers
Dosers
M92 TETRAHEDRON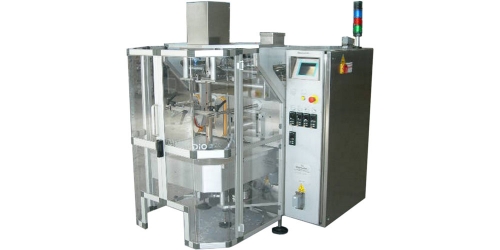 The packaging machine VERTICAL M92 for TETRAHEDRON, performs the two transverse welds at right angles one o'clock the other, is easily obtained a package with four faces (TETRAHEDRON) which presents, even if little easy handling, one of the highest ratios of the container capacity / material surface.
Ease of use, operator safety, high quality materials and trade, suited to medium-high production with optimal quality-price ratio.
Using the latest generation of PLC with touch-screen panel and ability to create production recipes in a simple and intuitive way.
The packaging machine version intermittently M92 for TETRAHEDRON, is version Mechanics:
M92 Version Mechanics - Built for accuracy and synchronism
The longitudinal welding group is via CYLINDER,
The cross-party group is via INDUCTION MOTOR
The film driving unit is via UNIVERSAL JOINTS.
TECHNICAL DATA :
Hot bar welding for any type of heat-sealable films.
Suitable for packaging various types of granular product
Of ad groups running pliers Special
Electrical panel integrated into the machine to save space.
Max film width. 255 mm

Speed : 60-65 packs per minute with 100 Gr.