Automatic lines and conveyor belts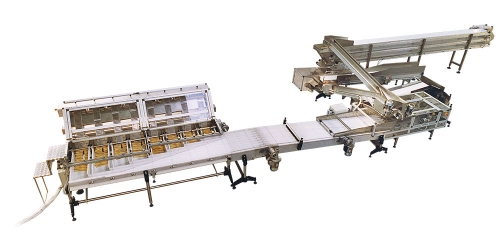 AUTOMATIC LINES AND CONVEYOR BELTS
They are automatic systems for breadsticks with a fully automated processing cycle, from the levy of breadsticks at the oven outlet, to the final stage of counting or weighing depending on the type of product, combined with the horizontal packaging machine.
There are also semi-automatic versions, involving however the reduced employment of personnel for productions of small entities.
The arrangement of the conveyor belts and loaders can be varied and adapted to make the most of the available space in the premise where you will install the system.
The conveyor belts and loaders can be supplied in various sizes to allow different amounts of production.
A design service to develop machinery and systems tailored to the specific needs of the customer.
A rapid and complete support and maintenance service on all the systems and machinery installed.